Day 4 - We arrived in Vicksburg and had our first look at the mighty Mississippi.
We proceeded to the Vicksburg battlefield park, which is a large drive-thru tour of the entire battleline that surrounded the town of Vicksburg during the Civil War.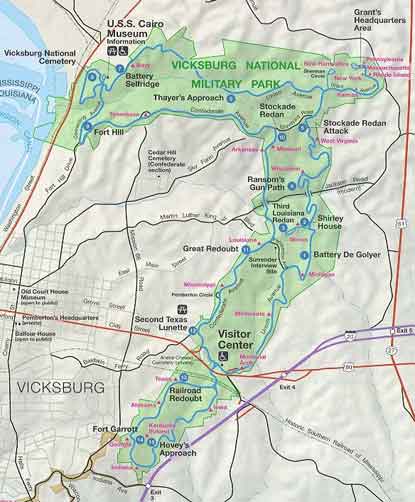 We equipped the car for battle and headed off.
The conflict at Vicksburg lasted for months, was fought from the river and earth embankments, and ultimately culminated in a siege.Many many people were killed, and there seems to be a monument to almost every one of them peppered throughout the park. Here's a short sampling...
Pickwell, head of the Confederate Forces
Grant (Union) - statue twice as big as Pickwell's
To the victor go the big statues
Illinois monument
One of many other state monuments
Many of the earth embankments which were constructed to shelter men and cannons still exist.
Confederates built this embankment. Union soldiers attempted
to fight their way up the hill into a wall of enemy fire and were
repelled with heavy casualties.
The USS Cairo was an ironclad steamship which was the first vessel ever destroyed by an electrical mine. The ship, salvaged from the Mississippi, is in the park and can be walked on.
Where the Cairo was hit by the mine
A small museum displays artifacts of everyday life on a steamship left when the crew escaped (all survived).
The Confederates surrendered on July 4. Vicksburg did not celebrate Independence Day for 80 years after the war ended. After the war, the town was patrolled by African American Union soldiers. This statue is a tribute to them.
We would have liked to have several days to fully explore this site, which could easily be hiked through for weeks. There are hundreds of plaques of information that could be read. In fact, your park admission fee is good for 7 days of entrance to the park. Sadly, our 3 hour tour was at an end, and we headed for Poverty Point.
West of the Mississsippi, here we come!
~Mary
Amanda is still on a quest to find herself. Check in on this post again later to see if she's done so yet
.